Hey all,
good tool for trading on news fluctuations. Easy to use:
Step 1: set news time and name/comment for you (use terminal time - Market watch)
Step 2: set lot size, distance in Pips for upcoming Buy/Sell stop orders (above/below the current price). You will see 2 lines (blue and red) on X distance from the price 1 minute before the time you set. Lines will move up and down and strictly follow the price on distance Pips
Step 3: 5 sec before news time you get 2 stop orders.
Step 4: You may set cancellation time is seconds. By default its 60 sec. In 60 seconds both stop orders will be removed. If you get a BUY or SELL order - it will cancel other stop order.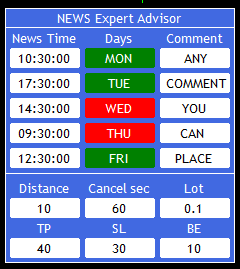 file is attached.