ZuluTrade Account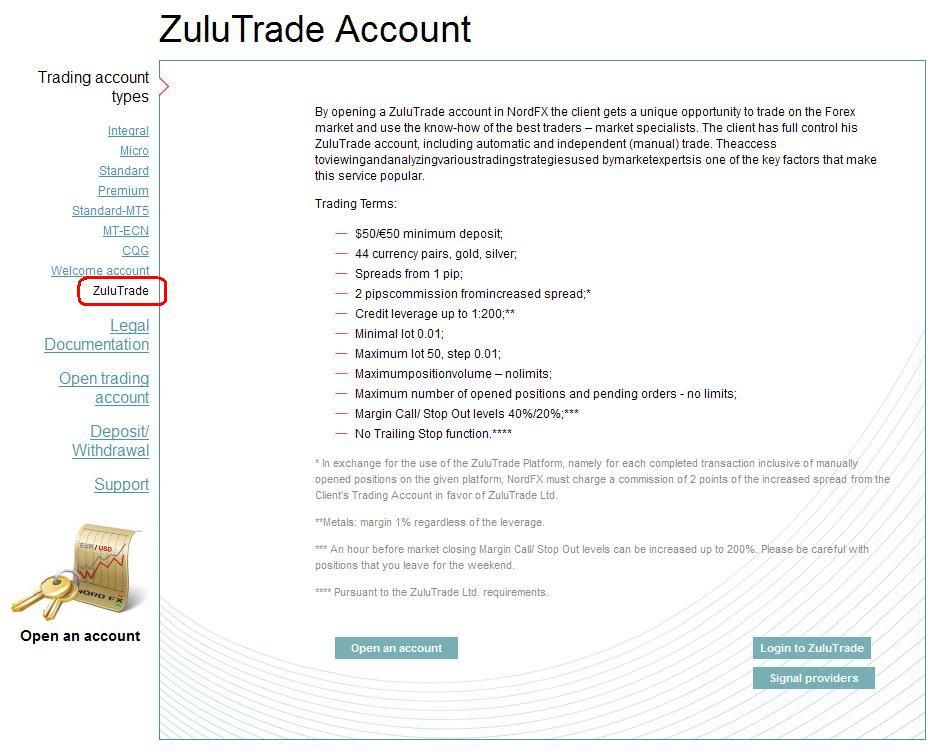 Trading Terms:
$50/€50 minimum deposit;
44 currency pairs, gold, silver;
Spreads from 1 pip;
2 pipscommission fromincreased spread;*
Credit leverage up to 1:200;**
Minimal lot 0.01;
Maximum lot 50, step 0.01;
Maximumpositionvolume – nolimits;
Maximum number of opened positions and pending orders - no limits;
Margin Call/ Stop Out levels 40%/20%;***
No Trailing Stop function.****
* In exchange for the use of the ZuluTrade Platform, namely for each completed transaction inclusive of manually opened positions on the given platform, NordFX must charge a commission of 2 points of the increased spread from the Client's Trading Account in favor of ZuluTrade Ltd.

**Metals: margin 1% regardless of the leverage.

*** An hour before market closing Margin Call/ Stop Out levels can be increased up to 200%. Please be careful with positions that you leave for the weekend.

**** Pursuant to the ZuluTrade Ltd. requirements.
How to Open ZuluTrade - NordFX Account :
1. Go to this link ZuluTrade-NordFX
2. Choose Account Type : Zulu USD or Zulu EUR fill all field with your real data
3. Download Client Agreement ZuluTrade-NordFX, sign and send to E-mail : zulu.accounts@nordfx.com or Fax +31 30 310 0171
wait for confirmation and approval ZuluTrade.
4. Verify your Account and make deposit. You can use ZuluTrade service on your NordFX account by log in
Happy Green Pips.........